It's December 1st Y'all!
If you haven't gotten into the holiday spirit yet, well now there is no excuse for saying it's too early. It's officially December, and I'm lovin' it! The Christmas tree is decorated, the lights are up, my nativity scene is placed perfectly on my mantel above the fire place…all I need now is a cup of hot chocolate, a Hallmark movie marathon, and some Christmas cookies cooling on the stove
. With my recent relocation to Fredericksburg, I thought it would be fun to highlight a few of the events going on in the DC/Central VA area!
Doesn't my new Christmas tree look awesome? I'm so excited to have a real house, with a real Christmas tree. Garth put in 100% effort to make sure it was perfectly fluffed
Downtown Fredericksburg in December is a classic holiday destination. Main street is amazing; the lights, the hospitality, the locality, and all this history wrapped up into a small town atmosphere is more than anyone could ask for in a holiday season! Looking to do some shopping? Here are a few of my all-time faves:
VA Runner in Fredericksburg- Great Hometown Running Store
Monkee's of Fredericksburg– For Tory Burch fanatics like me
Heather Boutique is a great little gift shop for a fun girl in your life! Lot's of fun Holiday gifts!
Lady Burg is my ABSOLUTE favorite stop for homemade beauty and wellness products. They are a local Bath and Body Apothecary, so very near and dear to my old-school pharmacy heart. Try their homemade muscle rubs and salves made from pure arnica!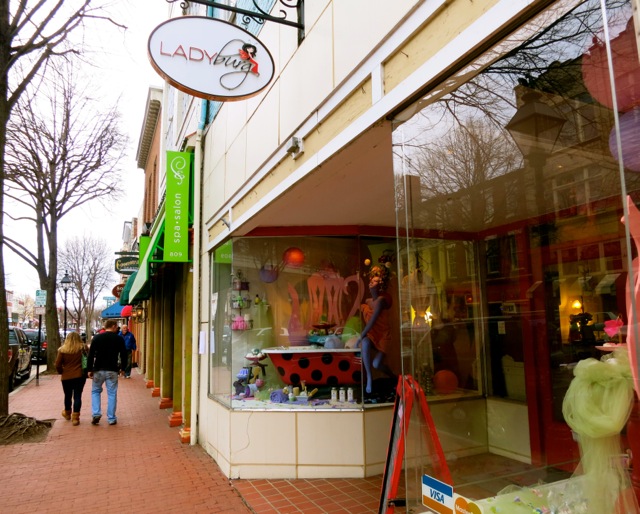 Kybecca– If you have a wine drinker in your life (or a are a wine drinker ** cough**…me) then this is a great place to stop, have a glass, and pick up a gift!
Needing a quick cup o' joe? This is Hyperion Espresso is THE place to be (amaretto latte anyone?")
If your looking for a truly magical holiday date night, ride through downtown Fredericksburg on an Old Town Jingle Bell Carriage Ride, learn to skate on the Spotsylvania Town Centre ice rink, or enjoy a classic Christmas at the Kenmore Plantation.
The annual Fredericksburg Christmas Parade (and the Spotsylvania Christmas Parade as well!) are being held on December 5th, 2015. The City of Fredericksburg Parade starts at 5:30pm and runs along Caroline and Princess Anne Streets. The Spotsylvania Christmas Parade starts at 1pm and runs directly through the Courthouse area. I'm extra excited about this parade, one because it's right up the road and two, because the theme this year is "Gingerbread Jamboree!". I love me some gingerbread men
. I'm really looking forward to these events, hopefully I make it to both! For more holiday events, The Fredericksburg tourism website is a great resource for plenty of family fun. Hope you had a great start to the month!
While Sunday is usually a relaxing, put your life back together kind of day for me, I had the opportunity through the DC chapter of the American Diabetes Association to volunteer at the annual Tour De Cure. For those of you who aren't familiar, it's a bike race benefiting diabetes research, and you guys know how crazy I am about diabetes!
Tons of people showed up for races ranging from 14 miles to well over 100. That is true dedication. Many drug and healthcare companies brought whole teams of people to ride and support the cause.
I spent my time at the actual ADA booth offering educational materials on nutrition, implementing physical activity, and medication adherence. I always enjoy getting a chance to educate people in such a casual and open environment. I met so many people who were either living with diabetes, had a child with the illness, or were supporting the cause because they understand the impact that diabetes is having across the world.
If you are interested in ADA events check out this website. They keep up to date on all the local events. In fact, the Fit Foodie 5K Race Weekend is June 19th-21st at the Mosaic Town Center in Fairfax. The weekend is jam-packed with celebrity chef tastings, culinary and fitness demonstrations, yoga sessions, a fitness boot camp,all led by celebrity trainers and fitness experts. The event is raising funds for the ADA and is wicked fun way to learn a few new tricks for living healthy!
Still working hard on this website, trying to get all the little kinks worked out. Look forward to a fitness-inspired post coming up! What your favorite way to get moving?